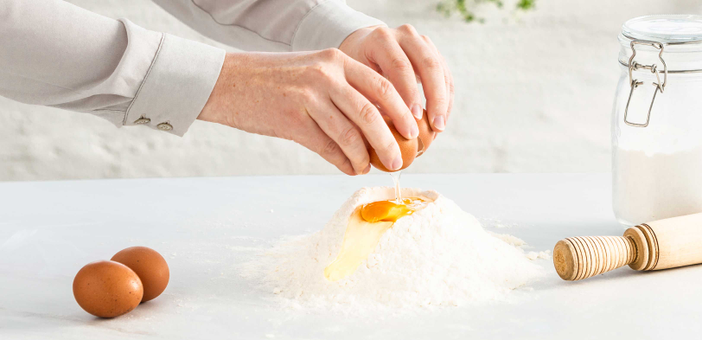 Lovely Strawberry Sandwich Cake
Bake Mum this delicious Strawberry Sandwich Cake this Mother's Day.
For the Cake
160 g
Unsalted butter (5 1/2 oz)
150 g
Caster Sugar (5 oz)
2 g
Salt (A pinch of salt)
160 g
Self-Raising Flour (5 1/2)
1
Dr. Oetker Baking Powder Sachet (x1 sachet/5g or 1 tsp)
70 g
Strawberry Jelly Cubes
To Decorate
300 ml
Double Cream (10 1/2 fl oz)
25 g
Strawberry Jam (5 tsp)
about 100 g
Strawberries (6-8 strawberries)
Preheat the oven to 180⁰C, then grease and line the base of two 18cm baking tins.
Put the strawberry jelly cubes in a small microwavable bowl, add the water and heat on full power in microwave for 40 seconds or until jelly has fully melted. (It might need a stir and a bit of patience to fully melt.)
Place the butter and sugar in large mixing bowl and beat until smooth, light and fluffy. Add pinch of salt, and then beat in eggs one at a time and then beat in 1tsp of Dr. Oetker Madagascan Vanilla Extract and half the jelly water.
Sieve self raising flour and 1tsp of Dr. Oetker Baking Powder into a bowl and then gently fold into wet mix, with a large metal spoon. Fold in 2nd half of jelly water. Then split between the two baking tins and bake for 20 – 25 minutes.
Allow to cool for a few minutes then run a knife around the edge of the tins and turn out onto a cooling rack and allow to fully cool.
Meanwhie with an electric whisk beat double cream with icing sugar until fairly stiff. Place one of the cakes on a plate and cover the top with a thin layer of cream. Stand a ring of Dr. Oetker Heart Marshmallows around the edge.
Take approx 150g of the beaten cream and place in a separate bowl.
Chop the strawberries quite small and mix in with the 150g of cream along with the strawberry jam. Fill the space inside the marshmallows with this strawberry cream.
Spread a thin layer of beaten cream on the base of the other sponge and then place on top of the strawberry cream / Marshmallows. Cover the top of the cake with the remaining cream.
Decorate with Dr. Oetker Chocolate Hearts and Dr. Oetker Mini Wafer Flowers.
Additional information
Know a little more
PLEASE RATE THIS RECIPE
How did this recipe go?
PLEASE RATE THIS RECIPE
How did this recipe go?
Follow Us
Follow us on Social Media